MetricStream and the AI Sustainability Center Ethical Risk Profiler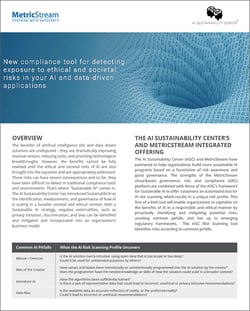 The strengths of the MetricStream GRC platform have been combined with those of the AISC's framework for Sustainable AI to offer customers an automated tool for AI risk scanning.
This unique, first-of-its-kind tool will enable organizations to proactively identify and mitigate potential risks, thus avoiding common pitfalls.
Learn more about the AI Risk Scanning Profile in this datasheet.