Safaricom Discuss their GRC Journey and How They're Leveraging MetricStream Products for Superior Risk Management and Compliance Performance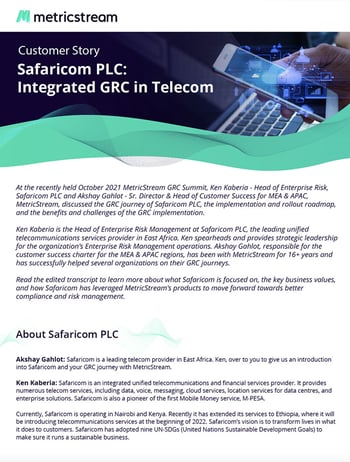 At the recently held October 2021 MetricStream GRC Summit, Ken Kaberia - Head of Enterprise Risk, Safaricom PLC and Akshay Gahlot - Sr. Director & Head of Customer Success for MEA & APAC, MetricStream, discussed the GRC journey of Safaricom PLC, the implementation and rollout roadmap, and the benefits and challenges of the GRC implementation.
Before implementing GRC, Safaricom had about 500 processes across different levels of the organization, and a variety of distributed assets and systems. The business recognized the value in having a single source of truth.
Outcomes at a glance:
The organization now has its own integrated risk intelligence framework
Unified view of the enterprise
Improved efficiency and productivity of risk and compliance teams


Read the transcript to learn more about what Safaricom focused on, key business values, and how Safaricom successfully leveraged MetricStream products to move forward towards risk management and compliance practices.