Key Elements of Measuring Governance Risk and Compliance Performance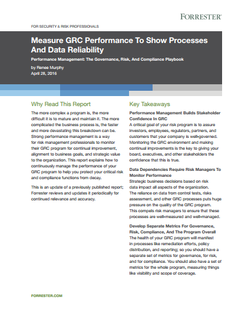 Read the Forrester GRC Playbook, brought to you by MetricStream, to understand the steps involved in continuously managing the performance of your GRC program to help you protect your critical risk and compliance functions. Some of the key highlights include:
Key Takeaways:
How performance management builds stakeholder confidence?
What are the data dependencies to monitor performance?
How to develop separate as well as integrated strategies for Governance, Risk, and Compliance?