GRC 20/20 Vendor Viewpoint - Governance, Risk and Compliance Insights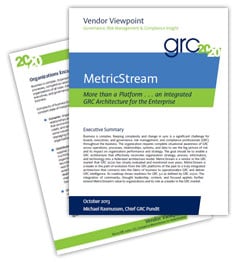 Business is complex. Keeping complexity and change in sync is a significant challenge for boards, executives, and governance, risk management, and compliance professionals (GRC) throughout the business. MetricStream is a vendor in the GRC market that GRC 20/20 has closely evaluated and monitored over years.
According to the GRC 20/20 vendor viewpoint, "There are many capable GRC solutions on the market today, but MetricStream provides one of the most comprehensive set of GRC capabilities in the context of business. MetricStream has continued to invest in R&D to enhance its technology consistently year after year and has stretched itself to capacity in client projects to take on challenging and sophisticated implementations to build a comprehensive GRC architecture".